Continuing our countdown to Halloween, we will keep looking at great ways to gear up!  Hopefully we can help you take your costume to the next level this year.  And, as a continued incentive, we will be doing a give-away later in October.  Send in the pictures of your costume, utilizing at item from Grindworx.com, and we will decide the winner.  So get working and create something amazing.
This week we want to help you become that most impressive of assassin, the experts in stealth.  A ninja.  The great thing about a ninja costume, is that so many popular characters or based on this architype.  So you can take our ninja suggestions, mold them, and apply them to a multitude of different characters.
First up, we have the throwing stars.  Almost every ninja in pop-culture is shown using these impressive tools.  Whether you are taking on a rival dojo or going up against Shredder, a Ninja just isn't complete with-out his or her throwing stars.  These are an absolute must-have accessory for any ninja costume.  Of, if you prefer something outside the norm, go with throwing knives instead.  And, luckily enough, they are incredibly affordable.  This Halloween you can add these to your costume without breaking the bank.
Next we have one of my personal favorites, the Nunchaku (Nunchucks).  Any Ninja worth his or her training is adept at the use of Nunchaku.  An ancient weapon that takes an immense amount of training and dedication.  Now, you may not have time to master the weapon before Halloween, but that doesn't mean you can't have them hanging from your belt.  The aesthetic alone is enough for anyone to know you are one impressive ninja.  Lightweight, they won't be dragging you, or your costume down all night.    For less than $20, you would be crazy not to beef up your costume with this phenomenal accessory.
A true ninja knows the importance of staying stealthy, of hiding his features from would be prosecutors.  So how does he go about doing that?  With a mask or a hood.  But he needs something lightweight, something that lets him breath.  So what better than the Grindworx Shemagh black?  This awesome accessory can switch from hood, to scarf, to mask and back again.  It's incredibly versatile, just like any true ninja warrior.  The breathable cotton keeps your body temperature right where you want it, unlike those other cheap ninja costumes.
So hopefully we have helped you get your Ninja costume off the right start.  This Halloween, be the best ninja you possibly can be.  But, please keep in mind some of these are very sharp and potentially dangerous.  They are a novelty item, not intended to be treated like toys.  Be safe.  Be responsible.  And don't forget.  Take a picture of your kick ass ninja costume and send it to us, for a chance to be entered into our Halloween giveaway.  We can't wait to see what you come up with.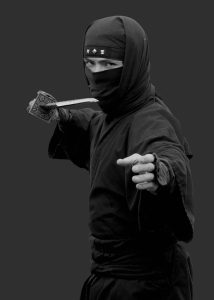 Have anything you would like to add?  How would you take your Ninja costume to the next level?  Let us know in the comments below.